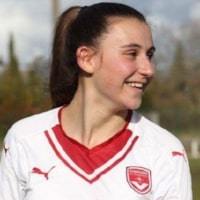 Alexanne Lill
France, born in 2001
F
/

5'9''

/

136

lbs

/

Soccer
Available
/
2019
Athlete Info
Introduction
I am strongly motivated to succeed in both academic studies and sport performances. I would like to have the opportunity to play, in a high level, soccer in a university team as well as studying. I think I have all the qualities required and could contribute to add an international spirit. I started playing soccer at the age of 7 and it has always played a big part of my life.
Sport
| | |
| --- | --- |
| Sport | Soccer |
| Team/Club | FCE Merignac Arlac |
| Position/Discipline | Central Defender/Right Back |
| NAIA ID | |
| NCAA ID | |
Top Athletic Achievements
2017-2018 : 10 games played/12 (2 missed because of injury
2016-2017: 17 games played

2017-2018: 12 games: 7victories; 2draws; 3 losses

2016-2017: 17 games: 10victories; 4 draws; 3 losses

Competitions & Tournaments
Regional 1: https://lfna.fff.fr/competitio...


During my two last seasons, I played the entirety of our games.I captained the team and was elected "Best Teammate" for the year
I trained with Canterbury United Pride when I was in New Zealand. (July-August 2018)

2016-2017: 2nd in the Aquitaine Regional Championship; Aquitaine Cup Champions; 1/1 regional tournament played and won
2017-2018: 3rd in the Aquitaine Regional Championship; quarter finals of the Aquitaine Cup; 1/1 local tournament played and won

https://www.facebook.com/Ligue...


Other Athletic Info
When I was 14, I ran Cross Country at Regional level.
Academics
| | |
| --- | --- |
| GPA | 3.93 |
| SAT | 1160 |
| TOEFL | 80 |
| High School | Lycée Sud Medoc |
Interview
What makes you different?

I am very passionate about playing soccer. My perfectionist attitude always pushes me to give everything for my team and never to give up, in good and in bad moments of the game. I always support my teammates and help them as best I can. My captaincy experience was hugely beneficial to my motivation and teamspiritednes. I have a strong desire and will to succeed in whatever I do.

Why do you want to compete in college?

I want to experience a new sort of college life outside of the realms of what is considered "normal" here in France. I want to experience new challenges and to broaden my horizons both academically and in soccer, where I will compete at a level that will challenge me.

College goals

To complete a successful academic qualification and to continue improving my soccer skills to as a high a level as I can.

Soccer and life Goals?

My ultimate goal is to be as happy as I can doing the things I love doing. It will be through my love of playing soccer and studying the subjects which interest me that I believe I will achieve my goals and make my family proud of me.

Anything else we should know?

I love traveling and went to New Zealand this year by myself.