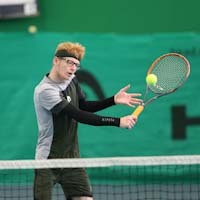 Mathis Monot
France, born in 2001
M
/

5'9''

/

137

lbs

/

Tennis
Available
/
2020
Athlete Info
Introduction
Hello, my name is Mathis Monot. I'm eighteen years old. I'm French and I live in Domloup, in France, in Brittany. I currenly study at Notre Dame de Kerbertrand high school in sport study. Tennis has been my passion since I was four years old. I play tennis and do physical training every day.

Sport
| | |
| --- | --- |
| Sport | Tennis |
| Team/Club | TC Bois Orcan |
| Position/Discipline | |
| NAIA ID | |
| NCAA ID | |
Top Athletic Achievements
From 9 to 12 years old, I was a top 10 player in my category in my region. With my team this year we have won the regional championship, we are accessing next year to the championship of promo DQDN4. At the start of the season 2017 – 2018 I was ranked 15, then ascended to 4/6 at the end of the season. This year I achieved one of the best season that I played, I had a revelation in my game, so I went up 3/6 in March, For the 2019-2019 season I have 34 wins and 12 losses, so I'm on the right track to become a 2/6 player at the end of this year.

Competitions & Tournaments
French Ranking: 2/6
Career wins - losses: 85/60 (2016-2019)
2016 – 2017 : 10th, Quimperlé, R3
2017 – 2018 : 10th, Quimperlé, R3
2018 – 2019 : 11th, Bois Orcan, R1 (Victory)
Other Athletic Info
I'm right-handed. I'm an offensive player. I like to go ahead and lead the game.
Academics
| | |
| --- | --- |
| GPA | 3.1 |
| SAT | October 5th 2019 |
| TOEFL | 39 |
| High School | Notre Dame de Kerbertrand, QUIMPERLÉ |
Interview
What makes you different?
What make me different is the fact that I'm totally devoted to this sport, I've been doing it since I was three, I never stop and I will never stop. This sport will be part of my future, it takes a very important place in my life, I'm determined to succeed in this background and to live my passion.
Why do you want to play in the U.S college system?
I want to play in the U.S system because I love playing sports everyday and especially tennis. Now I'm already evolving in tennis and I want to pursue it, because I enjoy that. What's more I'm really excited at the idea of being part of a college tennis team and giving the best of me for the championship.
Academic objectives
I want to get a degree and study in the field of exercise science. After that I would like to pursue a Masters degree in the same field, become a professional tennis coach with a strong mental training background.
It will be great, if I start coaching at one of the best Tennis Academies in the world.
Athletic and professional Objectives
I want to improve my physical condition and endurance, which will help me to become a better tennis player. This will be a complement to my Masters which will allow me to get in Universities as a professional coach.
Media
Mathis highlights
Mathis match