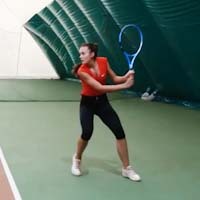 Denis Gencheva
Bulgaria, born in 2001
F
/

5'9''

/

144

lbs

/

Tennis
Available
/
2020
Athlete Info
Introduction
My objective is to gain enough experience and knowledge in both - the academic and sports fields. In my opinion it will benefit me as well as others and I would like to apply it in real life. Improvement is what I seek and I will not surrender until I earn it. I have the capability and motivation to keep me and the college team I represent going.
Sport
| | |
| --- | --- |
| Sport | Tennis |
| Team/Club | TC National Sports Academy |
| Position/Discipline | |
| NAIA ID | |
| NCAA ID | |
Top Athletic Achievements
National Women's Championships 2019 - Semifinal Doubles
Pleven Open U16 - Semifinal Singles
Blagoevgrad U16 - Doubles Winner
Fujairah Open G4 - QF Doubles
Pleven Open U16 - QF Singles
2016 Pleven U16 Semi Final Singles - Team Competition
2019 National Championships Women Semi Final double -
Team Competition

Competitions & Tournaments
2019 ITF J5 Zlatibor
2019 ITF J5 Skopje, North Macedonia
2019 ITF J4 Sofia
2019 ITF J4 Fujairah
2019 ITF Sozopol Junior
2018 ITF J5 Sozopol Santa MArina Junior Cup
2018 ITF J5 Viva Club Trophy, Galati
2018 ITF J2 Plovdiv Cup
2018 J5 Avenue Cup, Burgas
Other Athletic Info
Best National Women's Ranking - 11
Best National Women's Doubles Ranking - 8
Best ITF ranking - 2187
Current UTR - 8.20

Academics
| | |
| --- | --- |
| GPA | 3.9 |
| SAT | 1060 |
| TOEFL | 100 |
| High School | Sports High School/ National Sports University |
Interview
What makes you different
What makes me unique is my dedication for what I do. I am hardworking and I always give my best! Also, improvement is really important for me, so I will do everything in order to make a progress.
Why do you want to compete in college?

I have wanted to compete in an American college since I was 10 years old! The reason why is because it is not only a new opportunity, but also an amazing experience. You have the chance to compete for your team and the memories you share are unforgettable!
College goals

The expected goal is to graduate and get a degree, but there are others I have in mind of course. Firstly, I would like to apply everything I have learned in college in real life. I am talking about all the skills. Secondly, I would like to make the tennis team happy by competing and winning, also creating life lasting experiences.
Tennis and life Goals?

It is obvious that my life goal is to succeed in life. Mostly, I would say that I want to do what I am really interested in for a living and be happy. Having a good education is one of them actually. My tennis goals are to succeed as well. I want to be the best and help my tennis team win. At least, I will give the best of me.
Anything else we should know?
Two of the biggest passions of mine are swimming and horse riding.
Media
Denis Gencheva Tennis College Recruit Scholarship