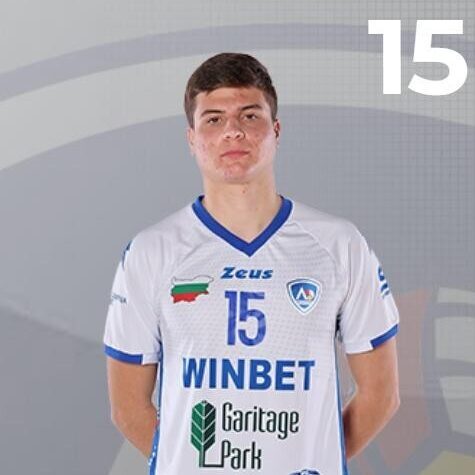 Kaloyan Botev
Bulgaria, born in 2004
M
/

6'3''

/

164

lbs

/

Volleyball
Available
/
2023
Athlete Info
Introduction
My objective is to combine my future education and sporting abilities. I am really motivated to play volleyball in the USA and show my best, because it is the right place to do as a student-athlete. I have a 3.5 GPA, which I believe will help me to excel not only on the field, but in the classroom.
For the last 5 years, I have been training twice a day and studying every day in order to complete my dream, which it to study and play for American University. My volleyball experience helped me develop excellent teamwork skills, which I am sure will help a lot in my next team and University.
Sport
| | |
| --- | --- |
| Sport | Volleyball |
| Team/Club | Levski Sofia Volleyball Club |
| Position/Discipline | Libero |
| NAIA ID | |
| NCAA ID | |
Top Athletic Achievements
Selected in the U20 Bulgarian National Team:
U20 European Qualifiers and U20 FIBV World Championships in Bahrain

1st place at the Balkan Championships 2022 in Albania

3rd place at the U17 European Championships 2022 in Italy

CEV U17/U18 Volleyball European Championship 2020 - Bulgaria National Volleyball Team
National Championship - 1st place ( Season 2021/2022) - Levski Sofia
U17- Regional Champion - Sofia - (Season 2019/2020)
U17 - National Championship - 1st place ( Season 2020/2021) -
Levski Sofia
U20 - National Championship - 1st place ( Season 2019/2020) - Levski Sofia
U20- Regional Champion - Sofia - (Season 2019/2020)
U20 - National Championship - 1st place ( Season 2020/2021) - Levski Sofia

U20 - National Championship - 1st place ( Season 2021/2022) - Levski Sofia
Competitions & Tournaments
Stats:
Season - Games Played: 58
Career - Games Played: 206

Season - Games Started: 52
Career - Games Started: 111

Other Athletic Info
Best Libero Award
Part of the U17 and U20 squad at Levski Sofia Volleyball Club
Part of U18 Bulgarian National Team
Academics
| | |
| --- | --- |
| GPA | 3.5 |
| SAT | |
| TOEFL | |
| High School | 166 SU ,, Vasil Levski " |
Other Achievements
Kaloyan Botev Interview
https://www.facebook.com/watch...
Interview
What makes you different
I am different because of my motivation and my leadership skills. It helps me to organize and motivate my team to compete at the highest level. I am really hard working person and passionate about the things I am keen on. In addition, I stay and work extra hours in the sports hall.
What makes me different is the fact that I never give up. In my sport career I have had a lot of ups and downs but when I set a goal, I always give 100% to achieve it and failure is not an option
Unlike some of my teammates and peers I avoid blaming the others for the mistakes the team makes. I have realized that this is not a winning strategy and I try to find the fault in myself and my actions and take personal responsibility for them. I think that this mindset will be as advantageous for me a in my new college team as it has so far. Teamwork can only benefit from constructive analysis of the mistakes by taking personal responsibility for them and trying to avoid them in the future.
Why do you want to compete in college?

It provides me with an opportunity to challenge myself and my skills. I believe it will be a great environment for me to further strengthen my volleyball capabilities, which will set me on my way to professional realization later.
I have studied for the last 4 years in 166 SU,,Vasil Levski" in Bulgaria, being interested in school work just as much as in sports. They go hand in hand for me. I want to compete for college as it will give me a chance to follow through with both my passions – education and sports. I will be able to take advantage of one of the best university systems in the world. I am also looking forward to playing in a team with academically like-minded people who know the pressure of achieving high results in two very time and effort consuming fields simultaneously.
College goals
My college goals are connected with both - Volleyball and Education. My priority is to help the team I represent, especially win the Championship at least once during my stay. On the other hand, I want to have good grades and I will work on it.
My short-term goals are to excel both at sports and in my chosen field of education, which will help my to achieve my long-term aspirations.
Volleyball and life Goals?
My life goal is to play volleyball professionally as long as I can because that makes me happy. I dream to have family and after I finish my career I want to be prepared for life and have a good education so I can continue to live with the education I get from an American University.
Considering my future goals I would like to be an independent person, who has fulfilled his goals both in sports and academic education in such a way to feel useful and find pleasure in what I do. I think my volleyball career will benefit my personal and academic development alike in terms of building skills such as discipline, industriousness, persistence and teamwork. I want to develop these to such level, which will allow me to play on high level and be a main part of my team.
Anything else we should know?
I like to spend my spare time with my family and hanging out with friends.
I like swimming and when I have free time I go to swim with my teammates.
One of my favorite activities is watching tennis and my idol in this sport is Novak Djokovic. My dream is to watch him live in the final of the US Open in New York.
Media
Kaloyan Botev - Bulgarian National Team highlights
Kaloyan Highlights Season 2022
Kaloyan Botev College Video