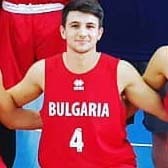 Martin Petrov
Bulgaria, born in 2001
M
/

6'0''

/

171

lbs

/

Basketball
Available
/
2020
Athlete Info
Introduction
My objective is to keep my grades as higher as I can and get better every time I step on the basketball court. I am not afraid to take the next step both academically and as a basketball player in order to achieve my goals and show what I am capable of. I am thankful for every opportunity I am given.
Sport
| | |
| --- | --- |
| Sport | Basketball |
| Team/Club | |
| Position/Discipline | Point Guard/Shooting Guard |
| NAIA ID | |
| NCAA ID | |
Top Athletic Achievements
2017 Bulgarian National Team U18
2018 Bulgarian National Team U19
2018 Balkan Games with the National Team
5 International Tournaments with the National Team
25 Games played with the National team
Competitions & Tournaments
Season - Games Played: 22
Season - Games Started: 22
Season - Minutes Per Game: 28
Season - Field Goals Made: 155 out of 240

Season - Points: 357
Season - Points Per Game: 16.2
Season - Steals Per Game: 2.8
Season - Turn Overs: 44
Season - Rebounds: 130
Season - Rebounds Per Game: 6
Season - Offensive Rebounds: 30
Season - Assists: 119

Season - Assists Per Game: 5.4


Other Athletic Info
Shooting hand: Right
Academics
| | |
| --- | --- |
| GPA | 3.2 |
| SAT | 1030 |
| TOEFL | 82 |
| High School | Instituto Bilingüe ,,César Vallejo" |
Interview
What makes you different
I am willing to learn and work so I can get the best results. The more I grow up and understand the game of basketball and see the little details in it, the more I get motivated to work even harder. My biggest strength is my work ethic. My mentality helps me in life because I believe with hard work and dedication I can achieve everything.
Why do you want to compete in college?

I feel like competing in college is the best thing I can do for my basketball career and as a student. I like the competition because it helps me develop. I am always trying to find a challenge and there is no better place than college.
College goals

My goal is to get good grades and at the same time win as many basketball games as possible.
Basketball and life Goals?

I have always wanted to play in the NBA. This is my dream since I was a little kid and it never changed. I set big goals for myself, because it motivates me to push myself and chase them. I also want to get a good degree, so I can use it in future.
Anything else we should know?
My biggest passion is music. I always find time to listen to music. It helps me go through tough times and it keeps my positive energy.
Media
MARTIN PETROV Point Guard Shooting Guard
MARTIN PETROV Point Guard Shooting Guard