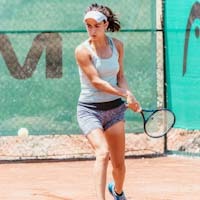 Nadezhda Kostova
Bulgaria, born in 2001
F
/

5'9''

/

133

lbs

/

Tennis
Available
/
2020
Athlete Info
Introduction
I started playing tennis when I was 8 years old. Since then it has become a part of my life, something I love to do. It helps me become a person with a good attitude, discipline and will, which makes me try hard before giving up on something. My biggest goal is to combine the sport and good education so that I can show what I have learned so far and hopefully develop it in the future.
Sport
| | |
| --- | --- |
| Sport | Tennis |
| Team/Club | TC Nika, Burgas |
| Position/Discipline | |
| NAIA ID | |
| NCAA ID | 2003828624 |
Top Athletic Achievements
2nd place doubles U16 – 2017, Bulgaria
2nd place doubles U18 – 2018, Bulgaria
Reaching Semi-finals doubles U18 in National Tournaments
Semi-final doubles National Women Championship (I)- 2019
Quarter-final singles National Women Championship (O)- 2018
Competitions & Tournaments
National Tournaments U14, U16, U18, Women
National Championships (Indoor, Outdoor) U14, U16, U18, Women
Tennis Europe U14, U16
ITF U18 (Junior circuit)
ITF Pro Circuit (10,000$;15,000$; 25,000$)
Other Athletic Info
ITF Juniors best ranking: 2229
Current UTR: 8.10
Highest UTR: 8.50
National Ranking U18 best: 12
National Singles Women Ranking best : 9
National Doubles Women Ranking best : 6
Academics
| | |
| --- | --- |
| GPA | 4.0 |
| SAT | 1340 |
| TOEFL | |
| High School | German Language School "Goethe" |
Other Achievements
1st place award in the Regular Christmas National Mathematics Competition-2017, Burgas
1st place award in the Regular Easter National Mathematics Competition – 2018, Burgas
Diploma of excellent performance in the Bulgarian National Mathematics Competition for Foreign Language High Schools – 2018
Participation in the Individual International Mathematics Competition ,,Mathematics without borders" – 2016, 2017, 2018
Participation in the Individual and Team Finals of the International Mathematics Competition ,,Mathematics Without borders"- 2017, 2018 ( 2016, 2017, 2018 – Team Finals)
Participation in the International Physics Team Competition for CERN ,,Beamline for Schools" - 2018
Participation in the International Online Physics and Mathematics Competitions – Physics in Advent/ Physik im Advent and Matheon-Kalender (2017)
Participation in the National Round of the National Olympiad in German (2018)
German Language Diploma Exam ( DSD II – Deutsches Sprachdiplom) – Level C1 (2020)
Award from the mayor of Burgas for an excellent grade in the Final National Exams, 2020
Interview
What makes you different
I am a quick learning, creative, hard-working and in my opinion very intelligent person. I always think rational, see through different perspectives and search the best way out of situations, one that will be profitable not only for me, but for others as well. I am stubborn and do not give up easily, but at the same time I am an empathic and reliable person. Most of the time I try my best to face the struggles instead of searching the easier way.
Why do you want to compete in college?
My grades in school were always excellent and I graduated as one of the best students there. Competing in college would help me develop myself not only as a tennis player, but also as a person, because it will be a new experience for me, both in academic and sport life. It will also hopefully help me reach my goals, which I have dreamed about since I was an 8-years-old – be a professional tennis player.
College goals
I want to study in the Medial-Engineering or Finance field and get one of the best educations. A Master's degree is something I am really looking forward to. In order to prove myself worthy in the academical society I will use my tenacity, reliance, intelligence, social and quick-learning skills. I want to use the opportunity for a self-development far beyond my home country educational borders and to achieve a solid start for my future.
Tennis and life Goals?
My goal is to get one of the best educations, which will help me build a solid foundation. I want to obtain new social skills, which are important in the new digitized and self-developing world. Advancing in both College and hopefully Professional Tennis would be something that can boost my future.
Anything else we should know?
Outside the court I am interested in other sports such as basketball, volleyball and handball. In my spare time I like to read science fiction, to draw, to listen to music and to writе short stories and poems.
Media
Nadezhda Kostova College Recruiting Video