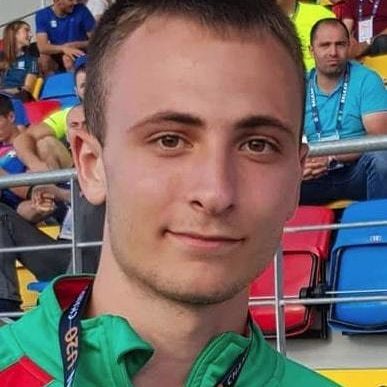 Zhulien Monev
Bulgaria, born in 1999
M
/

6'2''

/

172

lbs

/

Track & Field
Available
/
2018
Athlete Info
Introduction
My goal is to be as good as possible in the things that I am passionate about. And what better way to achieve this than joining a college team and colliding with many people and seemingly infinite amount of information I can receive to boost both my physical and mental skills.
Sport
| | |
| --- | --- |
| Sport | Track & Field |
| Team/Club | |
| Position/Discipline | Decathlon/Heptathlon |
| NAIA ID | |
| NCAA ID | 1809307125 |
Top Athletic Achievements
Outdoor Honors:
Nationals(Men) – First place (6027 points)
3rd Place Balkan U20 Championships (6396 points)
Indoor Honors:
Nationals: 2nd place shot put U16 (with an attempt over the NR-15.12)
1st place and NR heptathlon(U18) 4092p.
2nd place heptathlon(U20) 4196p.
Events & Results
Outdoor Track and Field

100m dash: 11.24
110m meter high hurdles: 15.46
400 meters: 51.05
Pole vault: 3.40
1500 meters: 5:03.78
Shot put: 14.60(6kg), 13.12(7.260kg)
Discus: 35.97(2kg)
High jump: 1.85
Long jump: 6.80
Javelin: 44.84(800g)
Indoor Track & Field

60 meter dash: 7.38
60 meter hurdles: 9.68
1000 meters: 3:05.21
Pole Vault: 2.80
Shot Put: 15.16(5kg) 14.09(6kg)
High Jump: 1.86
Long Jump: 6.01
Other Athletic Info
I've competed for my school team for 3 years in the 100m, shot put and
high jump. In our best year we became second on Nationals with me taking
a bronze and a silver medal in the 100m (10.90) and shot put
respectively.
Academics
| | |
| --- | --- |
| GPA | 3.5 |
| SAT | 1280 |
| TOEFL | 101 |
| High School | School of Natural Sciences and Mathematics-Sliven |
Interview
What makes you different?
It can be seen as both a positive and a negative feature but I always try to question the decisions others make that have an effect on me for the purpose of making sure it's the best thing that can be done for the situation/problem. I many times do research myself before jumping into a solution and I think that's a thing that defines me.
Why do you want to compete in college?
I want to take part in college athletics because I want to see how far I've come with my track and field progression and how much further I can go by being pushed and motivated by people around my age whose competitive spirit same as mine has brought us together.
Track and Field and life Goals?
My current goal/dream is to get accepted in a university in USA and try my best to represent it as an athlete and a student in general. And although my hunger for improvement is the reason I want to go there I believe it has much more to offer than education and sports. It's going to further shape me as a person and help me follow my passion.
Anything else we should know?
Ever since I was little I was a competitive person and tried to outrun, outplay or outsmart the other kids. Athletics gave me an opportunity to continue improving and ultimately shaped my style of living. I started as a thrower (because my coach mainly trained throwers) but soon other skills of mine became visible on a schools' meeting, where I had to do high jump and 100m to contribute for the team's success, so we thought it might be a good idea to develop these skills and compete in decathlon. And so I did, after only two months of preparation I managed to become a national champion among decathletes in my country.
Media
Zhulien Monev | Track and Field