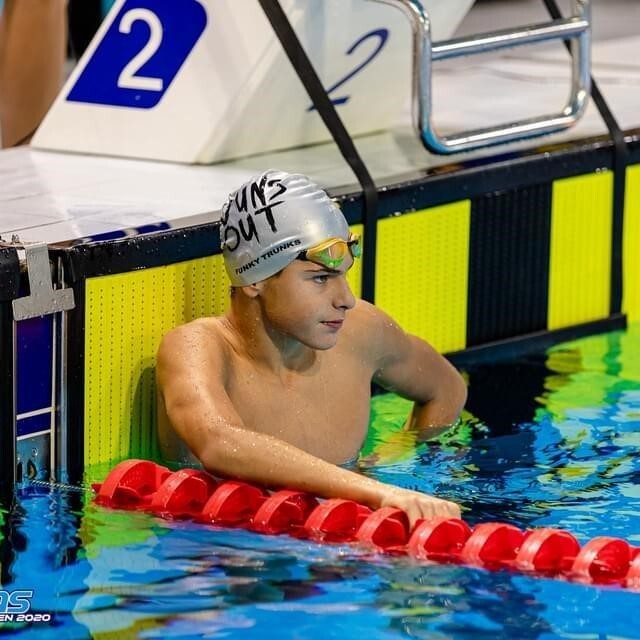 Aleksandar Georgiev
Bulgaria, born in 2006
M
/

5'11''

/

140

lbs

/

Swimming
Available
/
2025
Athlete Info
Introduction
My goal as a student and an athlete is to coalesce my academic abilities and my swimming talent in order to leave an impact on the college team that I represent. I believe I have everything it takes for me to be a valuable asset to any university – I am persistent, dedicated, disciplined, passionate, competitive, and adaptive. Sports have taught me numerous worthy lessons that I execute not only as a student, but as a human being. Nevertheless, I am certain that there is a lot of room for improvement in my abilities, and I would be beyond thrilled to have the opportunity to continue my growth as a student and an athlete.
Sport
| | |
| --- | --- |
| Sport | Swimming |
| Team/Club | Swimming Club "Levski |
| Position/Discipline | |
| NAIA ID | |
| NCAA ID | |
Top Athletic Achievements
2x National Champion (on 50 and 25 SCM pools)
11x Silver and Bronze Medalist from National Championships
"Athlete Of The Year" Award in the "Young Talent"

Competitions & Tournaments
My collection contains over 110 medals and awards from various international and national tournaments and championships in Bulgaria and abroad.
Other Athletic Info
PB times:
100m back: 1:02.4
200m back: 2:16.17

50m free: 25.90
100m free: 55.91

200m free: 2:15.41
400m free: 4:46
1500m free: 18:39.78
100m fly: 1:04.66
200m fly: 2:24.34
200m IM: 2:21.29
400m IM: 5:02.01
Academics
| | |
| --- | --- |
| GPA | 3.9 |
| SAT | September 2023 |
| TOEFL | May 2023 |
| High School | American College of Sofia |
Interview
What makes you different?
Personally, I think I am a person with interests of any kind. I like fine arts, reading, and numerous sports apart from swimming, such as wakeboarding, skiing, wind and kitesurfing. What's more, I actually like studying, though not only because of the knowledge, but rather because it lets me explore myself and my abilities, and also challenges me to push my boundaries further every time. Even though I find myself as goal-oriented, focused, and adaptive, what makes me different, and what I believe is something that greatly shapes who I am, is that I am extremely dedicated. When I have just turned 14, I left my hometown and moved into a whole new city, entirely alone, leaving my family and all of my friendships, behind entirely in the name of pursuing my goals and becoming the best version of my future self. Despite the difficulties at first, I persevered and quickly got used to the new environment, succeeded at school and established a strong connection with my new coach. I believe my dedication and will to leave the very best of me in every single event not only as a swimmer, but as a student and a person, would make me a valuable asset to any institution.
College goals
Starting from quite an early stage of my academic life and swimming career, I have always aimed high. The main goal that I am currently working towards is getting accepted and eventually committing to one of the top colleges in the States, including most Ivy League universities. Given the fact that swimming plays such a significant and influential role in my life, I mostly aim for colleges that offer Division 1 swimming. Of course, my goals for university definitely do not end with simply getting accepted. Academically, I would not only like to build up on my knowledge and become an expert in the degree I make up my mind on, but also grow as a person, which I believe comes hand to hand with the learning process and all the new connections and opportunities college would open for me. As an athlete, I want to improve my personal best's, and hopefully, one day reach a bigger forum.
Why do you want to compete in college?
Sports in Europe and in the USA undoubtedly differ from each other, especially when it comes to college sports. What made them so appealing to me, however, are the high competition, which personally greatly stimulates me; the professionalism and dedication athletes can observe at every practice by their coaches, the many opportunities that American universities create for their athletes, and lastly – the team spirit.
Swimming and life Goals?
As a swimmer, I strongly believe I can achieve a lot. My highest goal as an athlete is to reach a bigger world forum one day, such as European and even World Championships, and register events with achievements worth at least 800 FINA points. Concerning the near future, I am aiming for swimming the 200 meter backstroke under 2:10, the 100 under 1:00, and the 50 under 27.5. As a person, I want to turn my dreams for the times to come into reality. I wish to earn some valuable knowledge and experiences, get established and start doing what I love and what keeps me motivated for a living. What I am striving for is personal satisfaction and growth, career passion and inspiration, and to be a role model to my future family.
Anything else we should know?
I believe I am a well-rounded person with many interests outside of the school curriculum and the swimming pool. Apart from arts, I like sports of any kind not only because of the thrill and the adventures they provide me with, but also due to all the experiences I gain that I could implement at any point of my life and in nearly any situation. I would classify myself as defiant, and maybe even obstinate, which also makes me socially aware and opens many new doors for me to create new relationships and acquire new knowledge and experiences.