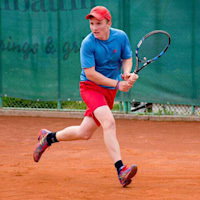 Danko Yordanov
Bulgaria, born in 2000
M
/

6'

/

166

lbs

/

Tennis
Available
/
2020
Athlete Info
Introduction
My objective is to acquire knowledge in a specific business field and develop abilities and skills, other than my sporting ones, that I will immediately apply in real life in the future. I would like the team that I will be enlisted to benefit from my tennis skills and be the team's best asset.
Sport
| | |
| --- | --- |
| Sport | Tennis |
| Team/Club | TC Lokomotiv Plovdiv |
| Position/Discipline | |
| NAIA ID | |
| NCAA ID | 1903455729 |
Top Athletic Achievements
"Galaxy cup" U16 WINNER singles & doubles
"TC Lokomotiv Plovdiv" U16 WINNER singles & doubles
"Champions Bowl World Finals"in Turkey U16 Runner-up singles and 3rd place doubles
"TC Loko 98 Plovdiv" WINNER singles & doubles
ITF "Jug Open 2017" 1/8 singles 1/4 doubles
I have been part of the Bulgarian National Tennis Team
I was competing 2 years in a row in the Italian men's division A2 for "Forum Tennis Forli"
Competitions & Tournaments
2019 Tournaments played:
"Teksim-Am" Men's tournament
MD- 22/08/2019
1st r v VIKTOR GRIGOROV- 6/1 7/5 UTR 10
1/8-LUBOSLAV IVANCHEV-1/6 2/6 UTR 12
Doubles same tournament
WINNER!
National Men's Championships
MD-28/08/2019
1st r vs BENJAMIN NIV 4/6 4/6 UTR 13
Doubles vs UTR 14&UTR 13 -2/6 6/3 5/10
National Team Competition
1st round singles 6/2 6/1
Doubles 5/1 ret.
1/16 v ALEXANDAR TEMOV 6/1 6/3 UTR 11
Doubles vs UTR 11&UTR 12 3/6 3/6
"Chernomorski igri" men's tournament
MD 01/10/2019
1st r vs BORIS GERENSKI 6/3 6/3 UTR 11
1/8 f vs VALENTIN IVANOV 6/1 6/1 UTR 11
1/4 f vs LUBOSLAV IVANCHEV 2/6 2/6 UTR 12

Other Athletic Info
Carrer matches singles - 154/56 (from 2014 to 2018)
Carrer matches doubles - 93/43 (from 2014 to 2018)
Best ITF Ranking - 1610
UTR - 11.14
Best Serve MPH - 119
Average Serve MPH - 109
Academics
| | |
| --- | --- |
| GPA | 4.0 |
| SAT | 1300 |
| TOEFL | 90 |
| High School | Blue Mountain College |
Other Achievements
I have succesfully completed a Tennis Umpire course with certification.

Interview
What makes you different?
What makes me unique is my consistency in following my goals, firmness when it comes to making quick decisions and open-mindedness. Due to the obstacles I have been through while attending competitions on my own, I have developed into a responsible and self-reliant person. What is more, my ability to easily communicate with people. This skill helped me in building strong relationships. I love a challenge, and as a self-motivated learner, I really enjoy going above and beyond when it comes to tackling new tasks and learning new skills. I find that it's easy for me to relate to a wide variety of people. For that reason, I really thrive in a team environment.
Why do you want to compete in college?

Since the age of seven I have always been interested in sports, particularly in tennis. I have competed in numerous tournaments all over Europe, as well as on other continents. I would like to continue doing so in college and I can assure you I will succeed when given the opportunity.
College goals?

An obvious goal is to get a degree. However, I also have several personal goals I hope to achieve while attending the College. Some of these goals are to acquire new skills and enhance my current sports abilities, to apply what I learn in the classroom to forward my career, and to feel personal satisfaction of finishing something I started. Already having experience in the sports world has proven to me that it is essential to have skills to maintain and improve daily functions. I'd personally like to continue competing on the same high level.
Tennis and life Goals?
I know everybody should have a goal in their life they strive to get to. Personally, I have many goals that I would like to reach throughout my life. My whole life I have always wanted to become a professional tennis player, graduate from University, and develop a successful business. I strongly believe I will reach all of my desired goals.