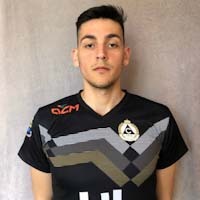 Georgi Vlahov
Bulgaria, born in 2001
M
/

6'2''

/

169

lbs

/

Volleyball
Available
/
2021
Athlete Info
Introduction
My objective is to combine education and trainings in the best possible way. I want to take the best of both worlds and improve both my academic and sports skills and myself as an individual. This is a unique experience and opportunity, the results of which will last for a lifetime.
Sport
| | |
| --- | --- |
| Sport | Volleyball |
| Team/Club | VC Slavia Sofia |
| Position/Discipline | Outside hitter |
| NAIA ID | |
| NCAA ID | |
Top Athletic Achievements
Gold medal and first place in cup "Pro Market" 2014
First place in the national club championship "Vissha Liga" MEN season 2018/2019
Silver medal in the school National championship for 11th and 12th grade 2019
Gold medal in Tournament "Rector's cup" 2020


Competitions & Tournaments
Silver medal in the school championship for 11th and 12th grade 2016
Bronze medal in tournament "Vlado Nikolov" 2017
Silver medal in the national club championship for boys U17
Silver medal in the school championship for 8th-10th grade 2018
Bronze medal in the school championship for 11th and 12th grade 2018
4th place in the national club championship for boys U19
Other Athletic Info
Captain of the school volleyball team
6 years sport gymnastics
7 years track and field (4th Place in long jump at the 2012 National Championships)


Academics
| | |
| --- | --- |
| GPA | 3.5 |
| SAT | 1100 |
| TOEFL | 95 |
| High School | French Language School "Alphonse de Lamartine" |
Interview
What makes you different
I think as a player I am the glue in the team. Every team has different types of players and they all have specific characters and I am the person who holds those people together and pushes them over their limits. As this type of person, I am always there for my teammates to encourage them. Also, I am ambitious and passionate, but I have good control over my emotions.

As a captain of the school team I have learned that every person needs different approach when it comes to motivation. In addition, I am the person who keeps the team focused and alert and I always try to predict what will happen. I invest myself 100% in practice and 200% when I am playing.
Why do you want to compete in college?

I want to compete on a high level while I study in a good university. USA and Canada can offer great education and well-developed sport. I am ready to take this challenge and study in one of the best universities while playing in a team where individuals are ambitious and set high goals like me. It is hard to choose a university and it's even harder to find a volleyball club and train there while studying that's why I want to compete in college, because everything is combined, and it is well organized.
College goals

All my life I am setting reachable goals in order to achieve my dreams. Graduating college is one of the most important goals on the path of success. In our day and age, the world has become so globalized and dynamic that education is of vital importance to anyone who wants to excel in his/her career. It is an asset that does not only help you develop professionally, but also gives you the chance to contribute to society.
Volleyball and life Goals?
As a person who has dedicated a lot to volleyball, I want to reach the highest level of this game. I have sacrificed a lot and I am willing to give more to the sport that I love. Sport has taught me a lot. However, a sports career is not for life. I want to be ready for life itself after the sport and to find and take my place in the world.
Anything else we should know?

I still regularly attend track and field training to keep in great physical shape.
Media
Georgi Vlahov - Season 2017 / 18 (Short Version)