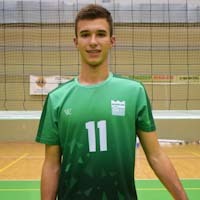 Georgi Zahariev
Bulgaria, born in 2003
M
/

6'7''

/

176

lbs

/

Volleyball
Available
/
2022
Athlete Info
Introduction
My objective is to combine my future education and sporting abilities. I am really motivated to play volleyball in the USA, because it is the right place to do so as a student-athlete. I have a 4.0 GPA, which I believe will help me to excel not only on the field, but in the classroom.

Sport
| | |
| --- | --- |
| Sport | Volleyball |
| Team/Club | Beroe Volleyball Club |
| Position/Discipline | Setter |
| NAIA ID | |
| NCAA ID | 2009931239 |
Top Athletic Achievements
U17 European Championships 2018-2019 - Silver Medalist
Balkan Championships 2019 - Winner
March 3rd" Tournament 2019 - Winner
Best Setter award
Best Serve award
Competitions & Tournaments
VC Beroe

lU17 -2018-2019- 5th in the country
U18 - 1st in the region - 2019-2020

last year U20 -2018-2019- 6th in the country
U20 - 2nd in the region
Men - 1st in the Group in First Division (Tier 2 National Championships) - Promotion to Bulgarian Super Liga (Pro Volleyball)
U17/U18 Bulgarian National Team
U17 2018-2019
1st -Balkan championship 2019
2nd - European championship 2019
Selected in the U18 National Volleyball Team
U18
2nd -Balkan championship 2020
European qualification in Sofia
Other Athletic Info
Spike reach -335 cm =10 ft 12"
Block reach - 330 cm = 10 ft 10"
Academics
| | |
| --- | --- |
| GPA | 4.0 |
| SAT | 1230 |
| TOEFL | January 2021 |
| High School | Mathematics and Science High School |
Interview
What makes you different
I am a setter and this is really specific position. I have some advantages, because I can not only set the ball and make a defense but I am really good at blocking (my height really helps) and serving two different types of serve on a very good level - float and jump serve.
I am a natural leader and that quality helps me to motivate and organize my team to compete at the highest level. I am a really hard working person and passionate about the things I am keen on. So usually I stay and work extra hours in the sports hall to improve my volleyball skills.
Having good grades and playing in the volleyball team is really difficult but for me it is easy because I am very good in managing my time.
Why do you want to compete in college?
Volleyball is my true passion and the thing that I can't live without. When I am playing volleyball I feel in my element. The level of US college volleyball is really good and I am sure that it would help me to develop my volleyball skills and would help to achieve my main aim (to become professional volleyball player on the highest level). But the education is also very important for me and I want to be as well educated as possible. It is very important to do the things you enjoy the most and that is why I want to study and play volleyball in the USA. This is the only and the perfect place where I can combine them both.
College goals
My college goals are connected with the volleyball and my education. First of all, I want to help the team I will represent win the championship at least one time during my stay. Secondly, It will be awesome if I have honors like being in the All-America first team. Also I want to have good grades and good education that I will use after finishing my career.
Volleyball and life Goals?
My life goal is to play volleyball professionally and to make my living with that. I want to have family and after I finish my career I want to be good financially and to continue making a living with the education I get from an American University.
Anything else we should know?

From the age of 5 to 11 I was very good in swimming. I have a lot of hobbies like cycling and skiing.

Media
Georgi Zahariev Video
Georgi Zahariev Video 2