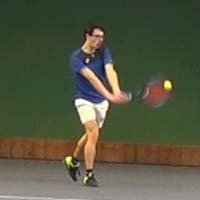 Merlin Mazalto
France, born in 2002
M
/

5'8''

/

152

lbs

/

Tennis
Available
/
2019
Athlete Info
Introduction
My objective is to improve my tennis level and to go as far as I can in this sport. But also, to learn the job of physical coach because I really like it. I'm really motivated in this and I'll give all I have to succeed in both domains.
Sport
| | |
| --- | --- |
| Sport | Tennis |
| Team/Club | Union Sportive Orléanaise |
| Position/Discipline | |
| NAIA ID | |
| NCAA ID | |
Top Athletic Achievements
Winner at Team Regional Championships
Other Athletic Info
Best serve MPH: 121 Mph
Average serve MPH: 108 Mph first serve; 100 Mph second serve
Season - Singles Wins: 11

Career – Singles Wins: 169
Team Wins - Home: 10
Team Wins - Away: 8
UTR: 8.45

Academics
| | |
| --- | --- |
| GPA | Baccalauréat 2019: 14.89 |
| SAT | May 2nd 2020 |
| TOEFL | 84 |
| High School | UFR STAPS Orléans |
Interview
What makes you different
I think that the thing that can make me different is the fact that I'm really mad all the time but when I play tennis, I concentrate all I have to be better and to perform in the sport that is my passion. I'm always determined, and I never gave up a match even if it was 6/0 5/0 40-0. I have the determination to give all I have in every match and every point to win maybe the unwinnable match.
Why do you want to compete in college?
I'm interested in college to study a job that I really like and to participate and represent the college in my sport because we don't make that in France and I find it so much cool. I'm also interested in that project because I want to play tennis during my study because this was something that I ever want to do. I also want to go there to discover a new country and to make other friends in my sports.
College goals
My college goals are to represent the college that I'll be in as well as I can with my tennis, and also to improve my tennis game. I want to study there because I've heard about the USA's school program and I find it way better than the French one.
Tennis and life Goals?

In my life I want to make my parents happy and proud about what I'm doing to succeed but also to go as far as possible in tennis, and even if I can't become a pro player (I expect that I'll become one) I want to work as hard as I can to have a great life.