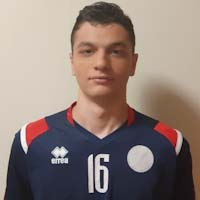 Presian Kirov
Bulgaria, born in 2003
M
/

6'7''

/

170

lbs

/

Volleyball
Available
/
2022
Athlete Info
Introduction
I want to receive an excellent education and to play for a promising college volleyball team. My goal is to learn from the experience and knowledge of the best coaches, which I can use in my future volleyball career.
Sport
| | |
| --- | --- |
| Sport | Volleyball |
| Team/Club | VASK Sofia |
| Position/Discipline | Right Side/Opposite Hitter - Left Hand |
| NAIA ID | |
| NCAA ID | |
Top Athletic Achievements
1st place: Plovdiv Cup (2019)
2nd place: Men's Championship (А-НВГ) (2018/2019 – "VC Lulin"; 2020/2021 – "VASK")
3rd place: National tournament U15 (2017/2018 – "VC Lulin"); "Krasimir Dimitrov" Tournament (2017 – "VC Lulin); CSKA

Christmas Tournament (2018 – "VC Lulin")
"Play with Levski" Tournament (2019 – "VC Lulin")
Competitions & Tournaments
National finals U17 (2018/2019) – 5th place ("VC Lulin)
National finals U18 (2019/2020) – qualified for finals, but they did not take place because of COVID-19 ("VASK")

Summer Camp "Nuzzosan" – "Best Serve" Award (2019)


Other Athletic Info
Season Games Played: 30 (U20 and Men's Championship)
Career Games Played: 132
Season Games Started: 27
Season Kills: 226
Season Kills per Game: 8.3
Season Total Attacks: 489
Season Hitting %: 80.78%
Season Service Aces: 56
Season Service Aces per Game: 2
Season Digs: 141
Season Digs per Game: 5
Season Total Blocks: 112
Season Blocks per Game: 4
Academics
| | |
| --- | --- |
| GPA | 3.7 |
| SAT | 1310 |
| TOEFL | 99 |
| High School | 134 Highschool Sofia with English and Hebrew |
Interview
What makes you different
I don't think that I have many things that make me different, but I have a very specific sense of humor, which manages to alleviate the pressure from my teammates…If the mood remains until the end of the match, depends on the opposite team.
Why do you want to compete in college?
The American university for me is a place where I can develop both my education and volleyball skills at one and the same time on the highest level. It will be a challenge to adapt myself smoothly to all obstacles that appear before me: the new faces that I will meet; the new places that I will visit; the expectations that will arise in front of me.
Volleyball and life Goals?

After graduating university I want to have the freedom to choose the path that I will take - a successful volleyball player or to work in a field that interests me.
Media
Presian Highlights Video