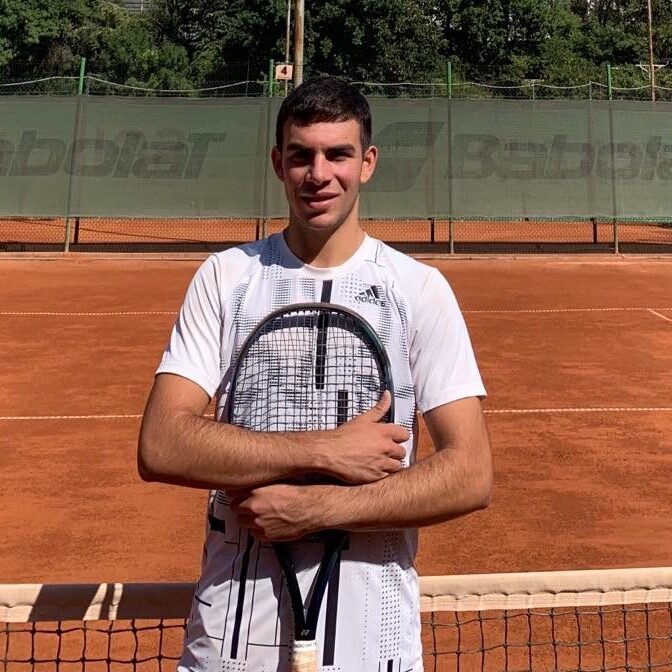 Rahamin Chalgadjian
Bulgaria, born in 2005
M
/

5'11''

/

150

lbs

/

Tennis
Available
/
2024
Athlete Info
Introduction
My objective is to get a quality education, while playing college tennis and compete against top university teams. I am motivated and ready to do whatever it takes and really believe that I am able to handle all challenges in order to reach the best results in both the academic and tennis fields. I am aware that only with hard work and dedication, all this can happen. For me it will be a great honor to be part of the university tennis team and to contribute to its successful performance. In addition, I would like to keep and increase the college image in front of the academic and sport societies.
Sport
| | |
| --- | --- |
| Sport | Tennis |
| Team/Club | TC Diana - Sofia |
| Position/Discipline | |
| NAIA ID | |
| NCAA ID | |
Top Athletic Achievements
2nd place National team championship
2nd place Regional tournament single
Quarter final doubles national tournament
Quarter final doubles Tennis Europe U16
ITF J5 first round singles and doubles main draw
Competitions & Tournaments
2023 National Tournaments played:
Bulgarian Men's National Championships

Bulgarian U18 Indoor National Championships - I
U18 Bulgarian Tennis Federation Tournament
Bulgarian U18 Outdoor National Championships
U18 Bulgarian Tennis Federation Tournament - II
2023 ITF Tournaments played:

J60 Antalya, Turkey (CANCELLED) 06 Feb to 12 Feb 2023
J300 Bulgaria Cup, Tennis Club Lokomotiv, Plovdiv, Bulgaria 11 Apr to 15 Apr 2023
J200, Haskovo Cup Tennis Club Haskovo, Bulgaria, APR 18 – 23
J60 Skopje Open 2023, Tennis Club Jug-Skopje, North Macedonia 01 May to 07 May 2023
J30 Pazardzhik Cup U18, Pazardzhik, Bulgaria, Tennis Club Favorit, 08 May to 13 May 2023
J30 Diana Cup 2023, Sofia, Bulgaria 26 Jun to 01 Jul 2023
Other ITF Tournaments played:

J2 Haskovo, Bulgaria
J5 Sofia, Bulgaria
J5 Varna, Bulgaria
J5 Sozopol, Bulgaria
Tennis Europe Tournaments:
Svilengrad Cup U16, Bulgaria
Nis Open U16, Serbia
Dema Cup U16, Bulgaria
Plovdiv Cup U16, Bulgaria
Other U16 and U18 National Tournaments:

Played in more then 15 competitions

Other Athletic Info
U16 National singles ranking: 25th
Best UTR singles: 9.5
Academics
| | |
| --- | --- |
| GPA | 3.5 |
| SAT | September 2023 |
| TOEFL | 85 |
| High School | English Private School "Prof. Ivan Apostolov" |
Interview
What makes you different?
Every person has its own character, skills and abilities. I am confident that with my attitude, passion and mentality I will be useful to the team. I am also a responsible person and I am a man of my word. Having my own experience and knowledge, I would like to share it with my teammates.

Why do you want to compete in college?
Tennis has always been my passion and I've always loved playing it and for the past few years, my purpose is to go to the USA and compete in college tennis. And I know I will do anything for my university team. It is a good opportunity to combine playing and studying and there will be no need to sacrifice my passion in order to get a good education.
College goals
My college goals are to get an education as good as possible and at the same time to compete against other colleges and to win as many tournaments for my school. Also, I would like to have the opportunity to be part of the university life and participate in any charity events and to support people who need my help.
It will be very interesting for me to meet and play with guys from other countries and to establish and maintain friendships.

Tennis and life Goals?
Well, I want to start as a college tennis player while studying and after I graduate, tennis will be part of my daily life and for sure will help me to find my professional career. I believe that being a tennis player I have learned so many things in general which are important in order to be successful. For example -never giving up, fighting for each point, positive thinking and analyzing the situation. With all these skills and competencies in tennis, it is a perfect background to start building my professional tennis career.
Anything else we should know?
I am a good skier and a good soccer player. I also like to hike in the mountains with my family, love cycling and traveling. In general, I am a dynamic and active person and like having things to do each day.
Media
Rami Chalgadjian college video - July 2023
Rami college video on clay