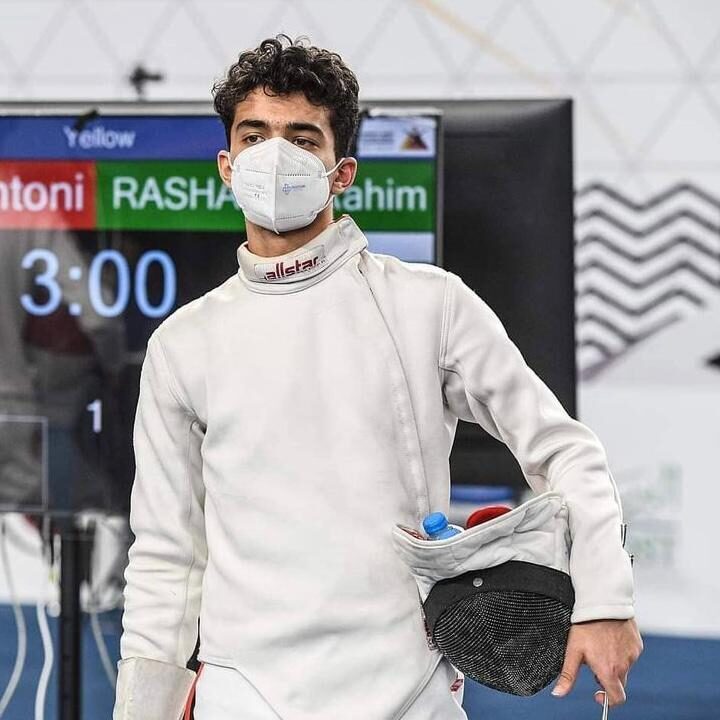 Rahim Rashaida
Bulgaria, born in 2005
M
/

5'9''

/

148

lbs

/

Fencing
Available
/
2024
Athlete Info
Introduction
My main aim is to combine my fencing career as well as my academic studies. That's why I believe that an American college is the best place to achieve my goals. I am ready to make the best of my experience and work hard in order to have a positive impact on the college team I represent. I am aware that all that will take a lot of dedication to happen.
Sport
| | |
| --- | --- |
| Sport | Fencing |
| Team/Club | NSA Sofia |
| Position/Discipline | Epee |
| NAIA ID | |
| NCAA ID | |
Top Athletic Achievements
Multiple National Champion - U15, U17 and U20
5th place – World Cup Juniors Team – Heraklion, Greece (December 2022)
11th place – World Championship Juniors Team – Cairo, Egypt (April 2021)
7th place at the World Cadet Championships (men's epee) 2021, Cairo, Egypt
12th place at the European Junior Championships(men's epee) 2023, Talinn, Estonia
16th place at the European Cadet Championships (men's epee) 2020, Porec, Croatia
National Champion U13 (2015,2016,2017), U15 (2018,2019), U17(2019,2020,2021), U20 (2020,2021,2022)
3 times winner at the Olimpici Grand Prix, Hungary
3rd place at the Trophy Kinder+ Sport Italy
7th place at the Junior World Cup(men's epee) 2022, Heraklion, Greece
2nd place at the FIE Senior Satellite Tournament (men's epee) 2022, Belgrade, Serbia
Competitions & Tournaments
14 FIE tournaments
17 ECF tournaments
15 Olimpici Grand Prix
2 Trophy Kinder+ Sport Italy
120 National tournaments
Total of over 170 tournaments
Winner of 80 tournaments and competitions
Other Athletic Info
Member of U20 Bulgarian National Team
World Junior FIE Ranking - 23

Academics
| | |
| --- | --- |
| GPA | 3.7 |
| SAT | June 2023 |
| TOEFL | September 2023 |
| High School | 91 German Language School Sofia |
Interview
What makes you different?
My favorite trait is that I am always stubborn and I never give up which helps me not only in sports but in school and life in general. My strong sports spirit has won me matches on many occasions because my desire to win is huge. I believe that the difficulties I have faced in life have only made me stronger and even more motivated to keep going. Moreover an aspect that not many have is the self-discipline that sports and school has taught me – I know that completing my trainings or assignments now will pay back in the future and my strong will keeps me going.
Why do you want to compete in college?

I found out about college fencing through a friend and I was immediately interested. I like the idea of college fencing because one of my favorite parts of my sport is the team I represent. I like competing in team events and trying to prove that my team is the best. I want to take part of the success of the college I represent.
College goals
My academic and sports aims were always high and my current goals are no different. That includes getting accepted in one of the top universities in US and then doing my best to help my team. Academically, I want to gain knowledge on a degree I choose and build new connections at my college.
Fencing and life Goals?
I have always aimed for the highest results. A dream of mine is to represent my country at the Olympics someday. I also believe that I can win a gold medal from a World Championship. As for college fencing I'd like to help my team as much as I can to be successful. I imagine my life ahead having a good job, spending time doing the things that I like and I want to be remembered both in sports and in some other academic field.
Anything else we should know?
I have always liked sports. In my spare time I usually play different sports. Most often that's football but I sometimes play table tennis, badminton and volleyball. My favorite thing to do in my free time is to watch the English Premier League or tennis live on TV. Back when I was in preschool I used to play the piano and I won some contests. Unfortunately I am no longer good at it, but I've always wanted to be good at playing a music instrument. My favorite subject is Math and back at middle school I went to numerous Math competitions.
Media
Tallinn 2023 DAY05 - Piste Red
Cairo Worlds 2021 CME - L8 - Socha POL v Rashaida
Cairo Worlds 2021 CME - L16 - Jovanovic SRB v
Cairo Worlds 2021 CME - L32 - Rashaida BUL v