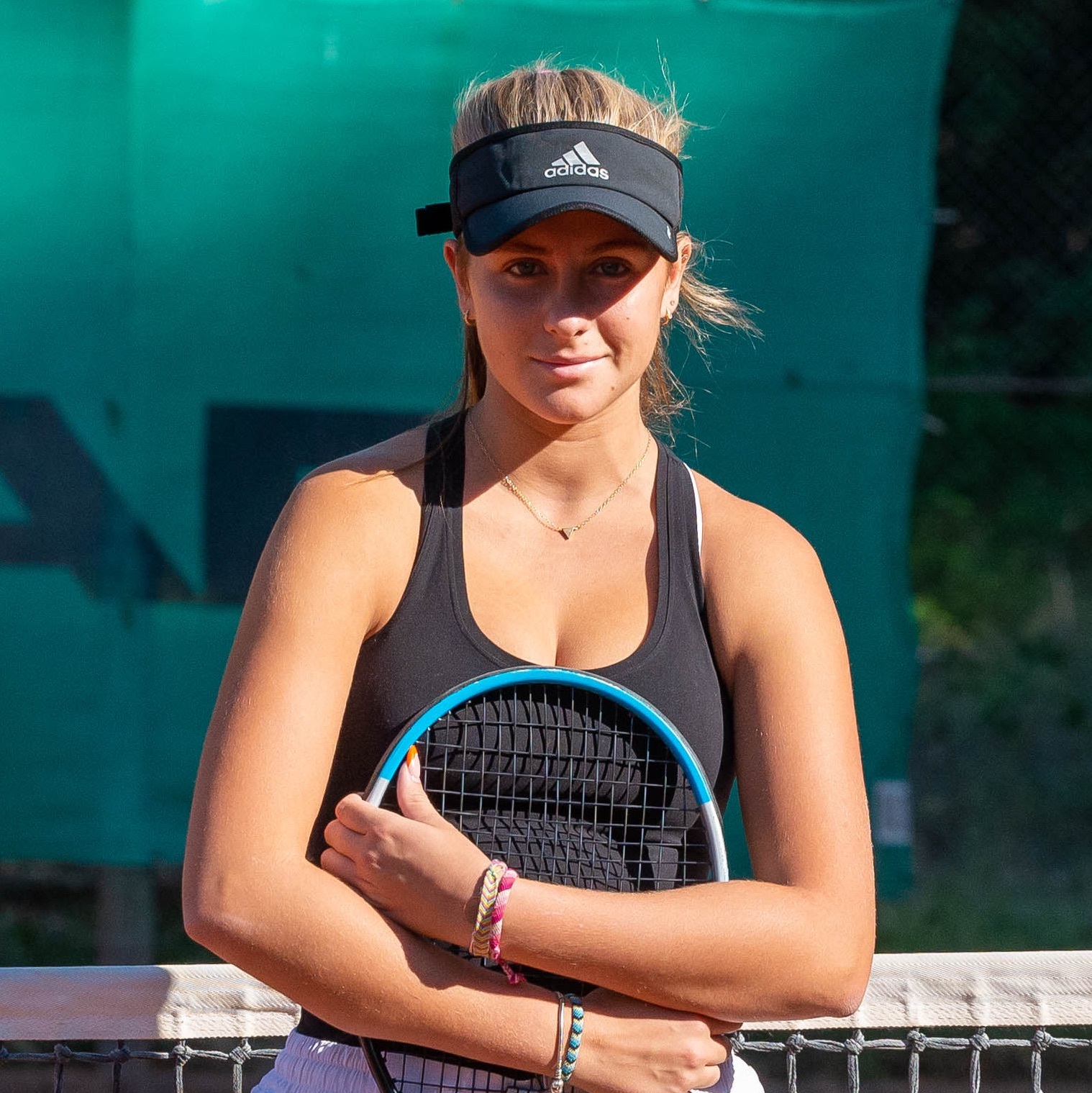 Sianna Kavrakova
Bulgaria, born in 2005
F
/

5'6''

/

125

lbs

/

Tennis
Available
/
2023
Athlete Info
Introduction
At just 17 years old, I have already set my sights on a lofty goal: to study and compete at the highest possible level in the United States. This ambition was spurred three years ago when I joined the Weil Tennis Academy in Ojai, California. Since then, I have been working hard to develop my skills both on and off the court. As a senior at the academy, I have maintained an excellent GPA while also honing my tennis skills. Every day, I push myself to be better than the day before. Whether it's working on my backhand or studying for a test, I am always striving to improve. In the future, I hope to continue to challenge myself both academically and athletically as I pursue my dream of becoming a top-level tennis player and help my university team accomplish great results, and ultimately, win the division title
Sport
| | |
| --- | --- |
| Sport | Tennis |
| Team/Club | Weil Tennis Academy - Ojai, CA 93023 |
| Position/Discipline | |
| NAIA ID | |
| NCAA ID | |
Top Athletic Achievements
Champion - NEWPORT BEACH $25,000 WILD CARD TOURNAMENT + $2000 PRIZE MONEY (MAR 19-20/2022) Women's B Flight
Finalist - NEWPORT BEACH $25,000 WILD CARD TOURNAMENT + $2000 PRIZE MONEY (FEB 12-14/2022) Women's B Flight
Champion - NEWPORT BEACH $25,000 WILD CARD TOURNAMENT + $2000 PRIZE MONEY (SEP 18-20/2021) Women's B Flight
Finalist - NEWPORT BEACH $4,000 PRIZE MONEY + WILD CARD TOURNAMENT (Feb 6-9/2021) also NEW JUNIOR OPEN Boy's & Girl's 12's-16's
Champion - L5 Match Point Tennis Academy, Santa Ana Girls' 16 Singles (Nov 14-17/2020)
Champion - 2020 ITA Summer Circuit @ Weil Tennis Academy Women's Singles Flight 2 (Jul 3-5/2020)
Champion - 2020 ITA Summer Circuit @ Weil Tennis Academy Women's Flight 3 (Jun 26-28/2020)
Finalist - L5 Northridge Spring, Northridge Girls' 16 Singles (Mar 7-9/2020)
Champion - L5 Match Tough Tennis Academy, Woodland Hills Girls' 14 Singles (Jan 25-27/2020)
Competitions & Tournaments
Total tournaments entered:
2022 - 18

2021 - 23

2020 - 18

Other Athletic Info
Best UTR - 7.07
Academics
| | |
| --- | --- |
| GPA | 3,9 |
| SAT | |
| TOEFL | |
| High School | Weil Tennis Academy - Ojai, CA 93023 |
Interview
What makes you different?
I was born in England and raised as a child in Bulgaria before moving to California as a teenager. I have always been drawn to travel, and I have been lucky enough to see many different parts of the world. Each place has its own unique beauty, and I have come to appreciate the beauty of all cultures. I see myself as an artist, and I love to express myself through drawing and painting. I am also a very passionate and motivated person, and when I set my mind on something, I am determined to achieve it. I have always been a glass half full kind of person. Sure, things have not always been great for me and there have been times when life was tough. I have faced challenges and overcome them. I have made mistakes and learned from them. And through it all, I have tried to remain positive and optimistic. People are drawn to my ability to see the good in every situation. While I might not be able to change the bad things that happen in life, I can choose to focus on the good and help shape a better future for myself and those around me. And that is what I choose to do. I am not sure if that makes me different from other people, but this is who I am.
Why do you want to compete in college?
Since I arrived in the United States, my dream has been to compete in college tennis while also getting a great education. I love the sport of tennis and have worked hard to improve my game. But beyond that, I also want to experience life in college and meet new friends. Being part of a college team would be an amazing opportunity to do both of those things. I would be able to support my teammates while also being supported by them. Additionally, I would have the chance to study at a great school and experience all that college life has to offer. I am incredibly excited about this prospect and am determined to make my dream a reality.
College goals
At present, I don't have a specific goal set for my college major. I am still deciding on what that should be. However, I do want to play college tennis, excel at the major I choose, meet new friends, and create many exciting opportunities for myself. College is the perfect time to explore different fields of study and to find out what you're really passionate about. I'm confident that I'll find the perfect major for me. I'll use my skills to earn a top spot on the tennis team. I will help my team win championships, and in the meantime, I'll make the most of every opportunity that comes my way.
Tennis and life Goals?
As of right now, I'm still very young and have a while to figure out what I want to do with my life. However, the one thing I know for sure is that I want to start as a college tennis player and study something related to art, interior design, fashion, acting or directing. Anything in the creative part of life really interests me. College is a time to explore new things and find out what you're passionate about. For me, tennis has always been a big part of my life and I hope to continue playing competitively in college. But I also know that there's more to life than just tennis. I'm interested in so many different things and I can't wait to explore them all in college. I'm confident that whatever path I choose, my tennis skills, competitiveness and college education will help me achieve my goals and lead a successful and fulfilling life.
Anything else we should know?
In my free time, I enjoy spending time with my friends and family. I believe that social interaction is crucial for our mental and emotional wellbeing. I am also an animal lover. I believe that all animals deserve to be loved and cared for, regardless of whether they are considered "companion animals" or not. I've been able to adopt two dogs of my own. In addition to taking care of them, I also continue to volunteer at the local animal shelter as much as possible.




Media
Sianna Kavrakova - Weil Tennis Academy (drills &