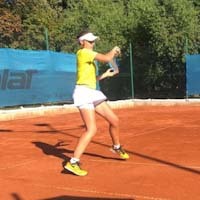 Stella Simeonova
Bulgaria, born in 2003
F
/

5'7''

/

150

lbs

/

Tennis
Available
/
2022
Athlete Info
Introduction
My goal is to combine my academic studies with the development of my sports talent. I am an excellent student with high academic ambition and a dedicated and serious tennis player. I dream to continue playing tennis in a college team as I have always loved to be a part of a team, to share a common goal, to support each other for success.
Sport
| | |
| --- | --- |
| Sport | Tennis |
| Team/Club | Maleeva Tennis Club |
| Position/Discipline | |
| NAIA ID | |
| NCAA ID | 2103135827 |
Top Athletic Achievements
First place U18 Doubles, Sofia
Runner Up Tennis Europe U16 Doubles, Sofia
Semifinalist National Championship U16 Doubles, Sofia
Semifinalist U18, Singles, Sofia
Semifinalist Women's Doubles, Sofia
Runner Up U16 Doubles, Plovdiv
Runner Up U16 Doubles, Sliven
Runner Up U16 Doubles, Varna
Competitions & Tournaments
2018 Runner Up at National Team Championship U18
2019 Runner Up at National Team Championship U18
2019 Fifth place at Women's National Team Championship
Other Athletic Info
National Rankings:
Highest U16 – 4
Highest U18 – 9
Current U18 – 11
Highest UTR Singles - 7.91

Highest UTR Doubles - 8.40

Academics
| | |
| --- | --- |
| GPA | 3.7 |
| SAT | 1140 |
| TOEFL | December 2021 |
| High School | National School of Mathematics and Natural Science |
Interview
What makes you different
My 11 years of experience in developing my personal game of tennis have taught me a lot of things not only on the court but things about life. The biggest personality traits I have mastered in my mind over the past few years are resilience, patience, rational thinking in tense situations, leadership. I really enjoy learning new things and constantly seek out new opportunities. I continually try to level up my skills by reading self-improvement books in my free time. Also, I find myself a very good communicator and it's easy for me to relate to other people. I have always been really serious and dedicated to my work, whatever it is about (tennis, education, and personal projects).
Why do you want to compete in college?
To play college tennis in the US has always been a goal for me. I think this is the best opportunity to get a high valuated education while playing tennis in a team. I am a team person and I love helping other people. The best thing about college tennis is that all players have a role in constructing the face of the team. They push and support each other in the will of becoming better athletes and better people.
College goals
I have a real interest and talent in drawing and I am proud of my reproductions of Van Gogh and other artists. All aspects of art are appealing to me and at the moment my intention is to pursue studies in the field of Arts more specifically Studio Arts, Illustration, Animation and Visual Effects.
Tennis and life Goals?
I want to become the best version of myself and I am ready to give anything needed to achieve it. My college-time life goals are connected with making an impact in the college life and the tennis team which I join.
Anything else we should know?
I am a very artistic person. I have a passion for painting and reading. I have played in school plays. I have been a referee at different tournaments in my tennis club multiple times and I have helped with the tournaments organization. I often prepare school projects presentations, so I have experience as a speaker in front of small audiences and as a team worker.
The sports have taught me to be disciplined, organized and precise in my routine; time-management is very important for me and I am very consistent with my engagements.
Media
Stella - groundstrokes, volleys and serve
Stella - points and match play