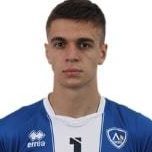 Valentin Blaginov
Bulgaria, born in 2000
M
/

6'6''

/

198

lbs

/

Volleyball
Available
/
2018
Athlete Info
Introduction
Both education and sports matter to me a lot. Studying in American university will give me the opportunity to combine them and develop equally in both. For the last 5 years, I have been training twice a day and studying every day in order to complete my dream, which it to study and play for American University. My experience in volleyball has developed in me excellent teamwork skills, which I am sure will help me a lot in my next team and university.
Sport
| | |
| --- | --- |
| Sport | Volleyball |
| Team/Club | Alpen Volleys Unterhaching |
| Position/Discipline | Middle Blocker |
| NAIA ID | |
| NCAA ID | 1809286075 |
Top Athletic Achievements
I've been part of the National Volleyball Team in each competition, since 2016.

Currently part of Levski Sofia's men team and participating in CEV Challenge Cup.
Best middle blocker award at National Tournament " Krasimir Dimitrov" in 2015
3rd Place with U21 Bulgarian National Team in Corigliano Calabro, Italy during the U21 European Qualification Tournament (2018)
Coupe Fred Fellay - Tournoi International de volleyball 2019 - Wins against The Nederlands Champions (Groningen), Montpelier from France and the host team from Geneva
Competitions & Tournaments
2nd Place in the current rankings of the Second Volleyball Bundesliga with Alpen Volleys - Unterhaching

3 times National School Champion with 51SOU and 1 time Best player award
1st place with Levski Ball U18 in the National Championship (2014-2015)
3rd place with Levski Ball U16 in the National Championship (2014-2015)
2015 Vice Champion Balkan Champion with Bulgaria National Team U17 in Kazanlak, Bulgaria
2nd place with Slavia in Men's High League (2015-2016)
2nd place with Slavia U20 in National Championship (2015-2016)
3rd place with Slaviq U18 in National Championship (2015-2016)
15th place in 24th World School Championship in Belgrade with 51 SOU "Elisaveta Bagrqna"
2016 3rd place in Balkan Championship in Vrnjacka Banja with Bulgaria National Team U20
1st place with Slavia U20 in National Championship (2016-2017)
Other Athletic Info
5 years competitive swimming experience (2007-2011)
3rd place on VIII International swimming tournament "Zamorata" in 200m breaststroke
2 times 3rd place in national chess tournaments.(2011-2012)
Academics
| | |
| --- | --- |
| GPA | 3.4 |
| SAT | 1190 |
| TOEFL | 85 |
| High School | 51 SU "Elisaveta Bagrqna" - Sofia |
Interview
What makes you different
What makes me different is the fact that I never give up. In my sport career I have had a lot of ups and downs and even serious injuries, but when I set a goal, I always give 100% of myself to achieve it and failure for me is not an option.
Unlike some of my teammates and peers I avoid blaming the others for the mistakes the team makes. I have realized that this is not a winning strategy and I try to find the fault in myself and my actions and take personal responsibility for them. I think that this mindset will be as advantageous for me a in my new college team as it has so far. Teamwork can only benefit from constructive analysis of the mistakes by taking personal responsibility for them and trying to avoid them in the future.
Why do you want to compete in college?
I strive for academic success despite my ambitions in professional sports. It is not only because of the demands for constant improvement the day and age we live in imply. The processes of globalization and the advance of technology have made high quality education of vital importance for anyone willing to be a valuable member of society. However, I consider education a means of personal development of my own interests and believe that knowledge is fascinating as much as it is pragmatic. For me education and sports go hand in hand and complement each other rather than the other way round. For the last five years I have been studying in one of the best schools in Bulgaria for arts and IT while training intensively at the same time. I am proud that I have successfully met the high requirements of my school even though I think I could have still done it even better. I am looking forward to continuing my education on one of the best universities in the world while contributing to its volleyball team. I also want to be in an environment of motivated people, who are driven forward by common goals and ambitions for success.
College goals
My chosen major is business and economics. It is my main field of interest since it is a contemporary study and will be very practical after I graduate. Our world demands more and more state-of-the-art professionals in the area to meet the requirements of society. The course work will provide me with the essential tools for understanding the complexities of modern economy and the global market. I am strongly motivated to study this in an American university. The flexible ways of thinking, which the democratic America educational system introduces are indispensable to our society in the changing conditions of economic globalization. Through teamwork and better teacher-student relationships, this education develops and cultivates its students' sense of social responsibility so that when they face the problems and challenges of our society they will be proactive towards them, instead of reactive.
Volleyball and life Goals?
Considering my future goals I would like to be an independent person, who has fulfilled his goals both in sports and academic education in such a way to feel useful and find pleasure in what I do. I think my volleyball career will benefit my personal and academic development alike in terms of building skills such as discipline, industriousness, persistence and teamwork. I want to develop these to such level, which will allow me to play on high level and be a main part of my team. Due to the fact that I am a perfectionist I don't want to be mediocre neither in my job nor my team. My goals are guided by one thought, "If it is humanly possible, I can do it."
Media
Valentin Blaginov Highlights
Valentin Blaginov Highlight 2