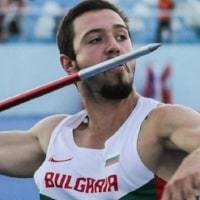 Valentin Tzvetkov
Bulgaria, born in 1999
M
/

6'1''

/

190

lbs

/

Track & Field
Available
/
2018
Athlete Info
Introduction
I was born and bred in a small town, where to become a good sportsman is not connected only with hard work, perseverance and full dedication but it also requires a great deal of sacrifice in terms of personal finance and poor conditions for training. I haven't received any means to keep my physical strength and recover after training sessions and competitions. Moreover, the lack of facilities has turned my preparation into a great challenge. Against all odds I became a National Champion.
Sport
| | |
| --- | --- |
| Sport | Track & Field |
| Team/Club | Athletic Club Kazanluk |
| Position/Discipline | Javelin, Discuss and Shot Put |
| NAIA ID | |
| NCAA ID | |
Top Athletic Achievements
2018 U20 National Outdoor Championships
Javelin - U20 National Champion - 61.96 m
Shot Put - U20 National Champion - 15.33 m
Discuss - U20 Silver Medalist - 45.20 m

Competitions & Tournaments
Javelin
2013-National championship (600g javelin) 1st Place with result 52m 28cm
2014-National championship (700g javelin) 1st Place with result 49m 55cm
2015- National championship (700g javelin) 2nd Place with result 59m 21cm
2015- National championship (800g javelin) 1st Place with result 60m 63cm
2016-XIII Memorial "Vylpev-Bahchevanov" (700g javelin) 1st Place with result 63m 02cm
2016-Balkan Youth Championships Krusevac (700g javelin) 4th Place with result 67m 54cm
Discuss
2014-National championship (1kg discuss) – 2nd Place with result 43m 10cm
2016-XIII Memorial "Vylpev-Bahchevanov" (1.500g discuss) – 2nd Place with result 47m 61cm
2016- National championship (1.750g discuss) 4th lace with results 42m 62cm
Other Athletic Info
Multiple National Champion
Member of the Bulgarian National Team
Participated in the U20 Balkan Games
Academics
| | |
| --- | --- |
| GPA | 3.0 |
| SAT | |
| TOEFL | 63 |
| High School | National High School of Plastic Arts and Design |
Interview
What makes you different
Since an early age I have been irresistibly attracted by different sports; I trained basketball, volleyball, tennis, mountain climbing in a rapid succession but wasn't satisfied with the way they stretched me. My body continued to want something different that would work every muscle in it. In the long quest for the sport my body and soul had been longing, I finally reached the sport which answers to all my expectations and it is javelin throwing.
Why do you want to compete in college?

I have been training almost always alone till now. Students in my town have no motivation to take part in sports events that need serious preparation because the conditions under which we train are so poor that they feel motivated neither by local authorities nor by national ones. When I become part of a well-organized and highly respected college team, I will be able to double my efforts to be the best among others.
Track and Field and life Goals?

I want to develop my body, to reach the limits of human potential and even go beyond breaking world records and keeping the first place for years. This is the main road I want to go and I feel my will is unyielding.
Anything else we should know?
I adore art. I take part in different school projects, art installations, 3D art and so on. I am fascinated by music, as well. I play the bass guitar and try to develop my singing abilities.
College goals
I have been studying DRAWING and Industrial Design for 4 years now and I want to continue developing in these two fields, which combine art and science in a most creative way. I want to be part of such an academic community in USA because the scale of advancement is much greater than that in my country.
Media
Valentin Tcvetkov Video