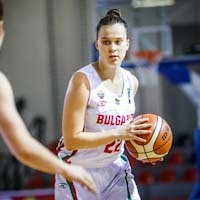 Vanesa Marinova
Bulgaria, born in 2001
F
/

5'8''

/

150

lbs

/

Basketball
Available
/
2020
Athlete Info
Introduction
The meaning of life is to find your greatest passion that gives you purpose and makes you happy. I found mine very early and it was Basketball. I believe that I can achieve everything that I want with a lot of hard work, dedication and a bit of madness. I sacrificed a lot for basketball, but I would do it over and over again if I have to because basketball makes me feel alive. I am also an excellent student because I work as hard as I do on the court. I love learning because it broadens my horizons and it challenges me intellectually.
Sport
| | |
| --- | --- |
| Sport | Basketball |
| Team/Club | BC Slavia and Bulgarian National Teams |
| Position/Discipline | Small Forward |
| NAIA ID | |
| NCAA ID | |
Top Athletic Achievements
U16 and U18 Bulgarian National Team Captain

Multiple National Champion


Competitions & Tournaments
2015
Winner - Tournament "Young stars"
2016
International Tournament "Vanya Voynova" 2nd place
National Team Tournament in Kosovo
National Team Tournament "Balkanic Next Star Cup"
International Tournament in Italy
2017
National Champions U16
Bulgaria Cup U16 - Winner
Women Cup 1st place
European Championship U16 - Captain of the National Team
2018
WABA league
International Tournament "Vanya Voynova" 2nd place
Bulgarian Women League 3rd place
2019
European Championship U18 - Captain of the National Team
2020
National Champions U19


Other Athletic Info
Individual awards:
2015 - MVP
2017 - U16 National Championships - Best rebounder
Academics
| | |
| --- | --- |
| GPA | 4.0 |
| SAT | 1220 |
| TOEFL | |
| High School | International School "Uwekind" |
Other Achievements
IELTS: 7.5

International Baccalaureate certificates:
Environmental systems and societies
Bulgarian, Language and Literature High level
German Language Standard level
English Language High level
Math Standard level
Interview
What makes you different
Everyone is different somehow, I think that the question here is what makes you better than everybody else. The answer is simple – energy. My coach always says that I am like a giant ball full of positive energy on and off the court. This helps me a lot in my everyday life, but it also helps my teammates and improves the atmosphere in the team.
Why do you want to compete in college?

I am always aiming high and I want to be the best, therefore I want to compete at the highest level. In my opinion this will happen in college. Also, I want to continue my education because it is important for my future. The balance between professional sports and education is almost impossible in Europe, that is why I want to go to college in the USA.
College goals

I have been an excellent student and player my whole life, so I plan to keep things this way. I am very ambitious, so I will also try to be better, in order to grow.
Basketball and life Goals?

My main goal is to be happy. I have understood so far that doing what makes you smile should be your number one priority. I also want to be the best at what I am doing. I have always dreamed to play on the highest level in WNBA and in the Euro League women. I believe that I am capable enough to achieve my dreams and I will do whatever it takes.
My other dream after the end of my basketball career is related to the environment. I want to contribute to finding solutions to the global environmental issues.
Anything else we should know?
My other passion besides basketball is writing. I enjoy writing poetry, articles, stories and I hope one day to write a novel.
I also love music and cooking.
Besides that, I love to travel and explore new cultures, I have been part in two Erasmus + youth programs. I was also part of an UN model in 2018.
Media
Vanesa Marinova Highlights
Vanesa Marinova Highlights 2
Vanesa full game 2020